Wave Type FLC 600 Shaker Screen
high -strength filter mesh

high cleaning intensity shale shaker screen

Dual 600 PMd shale shaker screen

Description:
Replacement PMD Screens Derrick DP 600 Series Shakers
Technical Parameter
Material: stainless steel 304/316/316 L.
Body Material: stainless steel plate.
Construction Type: PMD (pyramid).
API RP 13C Designation: API 20 – API 325.
Series: DX, DF, HP optional.
Color: green.
Package: 2 pcs per carton, packed in wooden case.
SJ-PMD DP 600 shaker screen with dimension of 626 × 710 mm which is smaller than other screen panels, it is the replacement screen for Derrick Dual pool 600 series shale shakers. There are 6 or 8 panels needed for each DP 600 shaker. Innovative actuated screen compression system drives the center of the screen panel downward and firmly sealing the screen panel to the screen frame. The mud recovery is greatly improved.
Adaptable Shale Shaker Model
SJ-PMD DP 600 shaker screens are used to as the substitute screen for:
Derrick DP (Dual Pool) 626 shaker.
Derrick DP (Dual Pool) 616 shaker.
Derrick DP (Dual Pool) 628 shaker.
Derrick DP (Dual Pool) 618 shaker.
Derrick DP (Dual Pool) 626 VE (Vapor Extraction).
Derrick DP (Dual Pool) 616 VE (Vapor Extraction).
Derrick DP (Dual Pool) 628 VE (Vapor Extraction).
Derrick DP (Dual Pool) 618 VE (Vapor Extraction).
Competitive Advantage
Light-weight screen panels for fast, user-friendly screen changes.
Easy screen inspection, removal, and installation.
Maximize solids removal capabilities.
Increase shaker capacity and reduce mud loss.
API RP 13C (ISO 13501) compliant.
Adequate inventory in the shortest time to meet customers' demand.
Warranty Period: 1 year.
Working Life: 400–450 hours.
Screens are the replacement products of flat screens. The effective area is 125% to 150% of flat screens. Without changing the construction of shakers, the using of the screens can improve the quality of drilling fluid and increase the production. We can supply screens with mesh sizes ranging from 20 to 325.

Screen has typical mesh cloth that appears regular waves, and it can be mounted on suitable shaker by hook strip or wedge-shaped fastening device. As compared to flat screens, screen have higher handling capacity by reason of more useful area. We can provide various sizes of screens to serve the clients' demands.

Different layers with different density. To arrange these layers reasonably and exactly, the screening effect will become more and better. The waved cloth bonded to metal backing plate has more surface. The effective area of a screen obtain 125% to 150%of a flat screen so that screen can load more drilling fluid flow.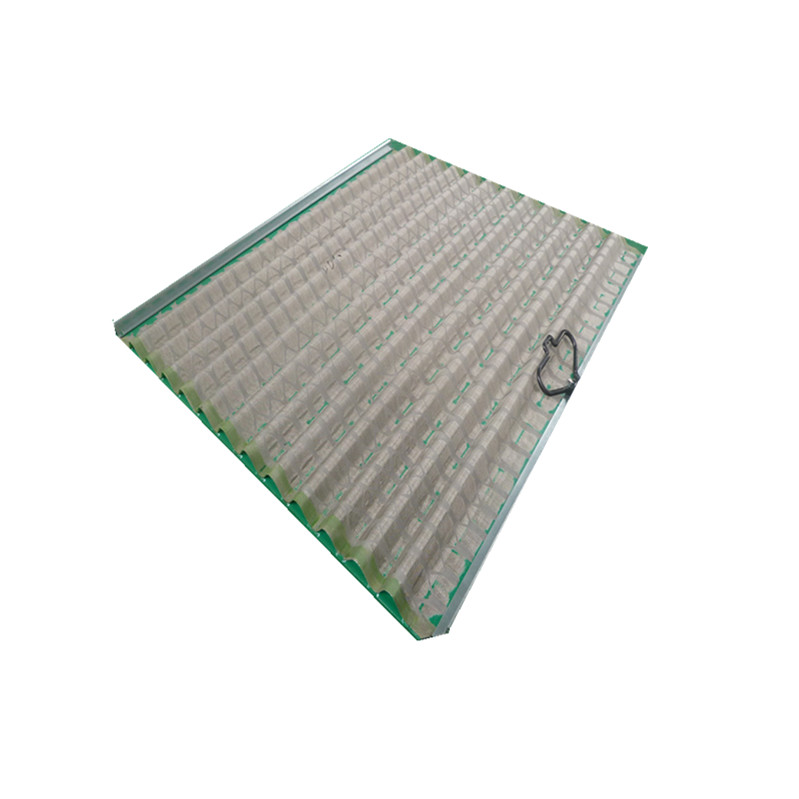 Applications:
Shale shaker screen is one screen that material feeding out of the hopper onto the shale shaker screen.Then the shale shaker screen is vibrating vigorously causing the material flowing over it . This shakes the finer material off of the larger material and allows it to pass through the mesh panel. The larger particles continue to bounce off the end of the mesh panel at the rear of the screen.
Specifications:
626 Shaker Screen
Demension
710x626mm
Wire Mesh Material
SS304 or SS3016
Frame Material
Carbon Steel
Mesh Layer
2 or 3
Weight
6kgs
API/Mesh
API 20 - 325
Working Time
7 - 10 days
Feature Advantage
High capacity fine screening
Increased solids control removal within a smaller environmental footprint
Competitive Advantage
Corrosion-resisting, heat-resisting, wear-resisting
long working life, higher flow rate
easy disassembly, rating of temperature, good performance
conductivity (powder) liquid, trapping (dreg) effect is good
current design, technical expertise
API compliant shaker screens